November 2017
I came back home from USA last week. I conducted my aikisambo and Iaido seminar at various dojos all over California.
Steven Miranda Sensei arranged a seminar at his Seikeikan dojo in Sacramento,California in memory of Parker Shihan. Parker Shihan was a great Aikido master for me and Steven. Many people came and enjoyed my aikisambo and Iaido training. Some people came from Canada, Oregon and Fresno. They enjoyed my aikisambo technique very much. We enjoyed the Pizza and beer party after the training. It was a moment of good friendship.
Southern California, San Diego seems to be similar to Cape Town. They have many nice beaches. I had a chance to meet and talk and train with Brannon Sensei in Beverly Hills. He is a younger brother of Jaren Sensei at Taekwon Do dojo in Cape Town.  We trained in the park in Beverly Hills. It was nice and I enjoyed the training with him very much. I hope I can do the seminar in the future.
I am going to Hiroshima at the end of this month to attend the Kobudo Enbutaikai. I will stay in Yokosuka in December. In February 2018, I will visit Hoosain Narker Sensei in Cape Town, South Africa, then I want to read more of his books on Mas Oyama.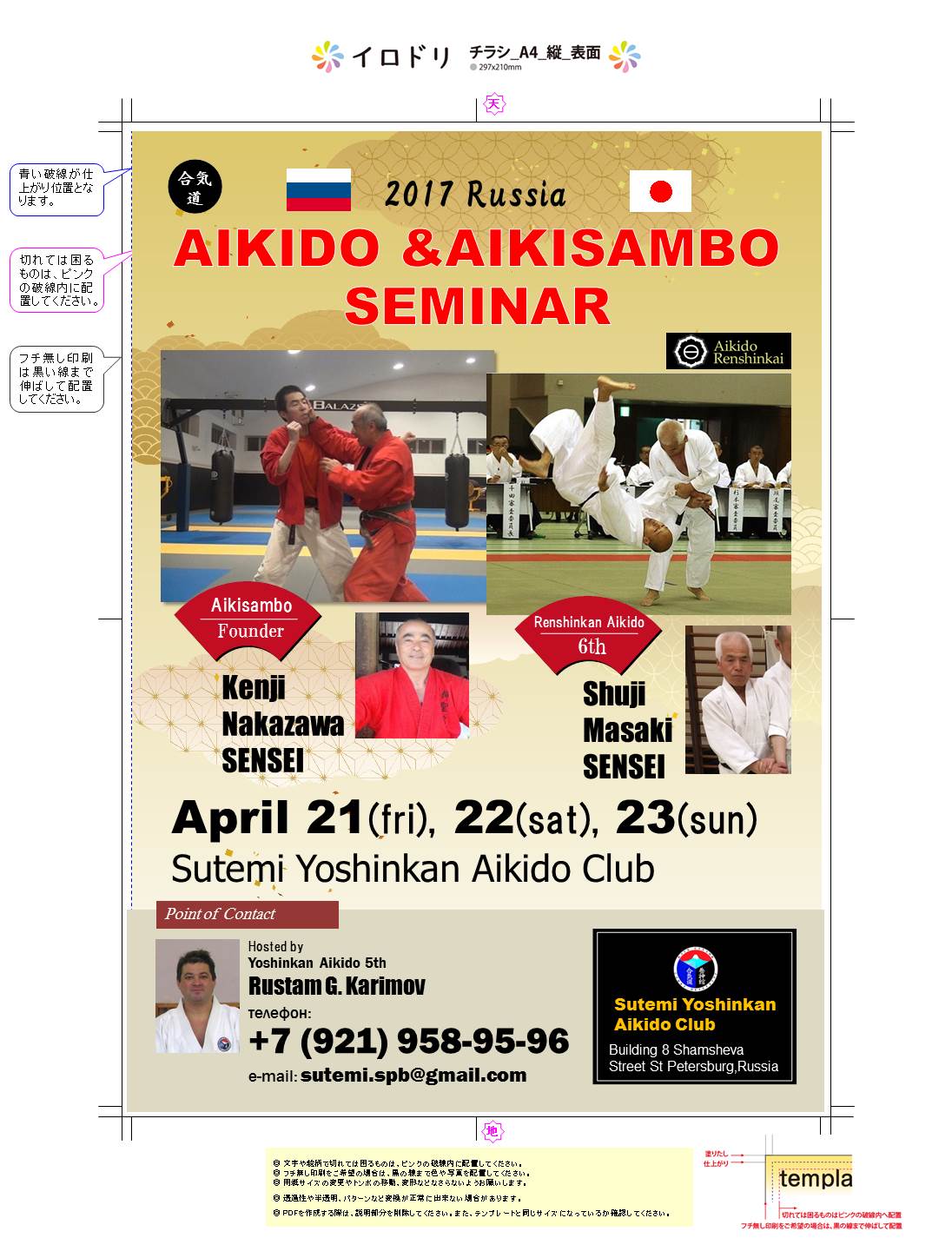 Kobudo Enbutaikai at Butokuden September 2015
Kobudo Enbutaikai at Butokuden in Kyoto was attended by many international guests. I had an honor and pleasure to teach my aikisambo techniques to 65 international  guests.
I enjoyed meeting, talking and training with them very much. I look forward to the next Enbutaikai in Kyoto.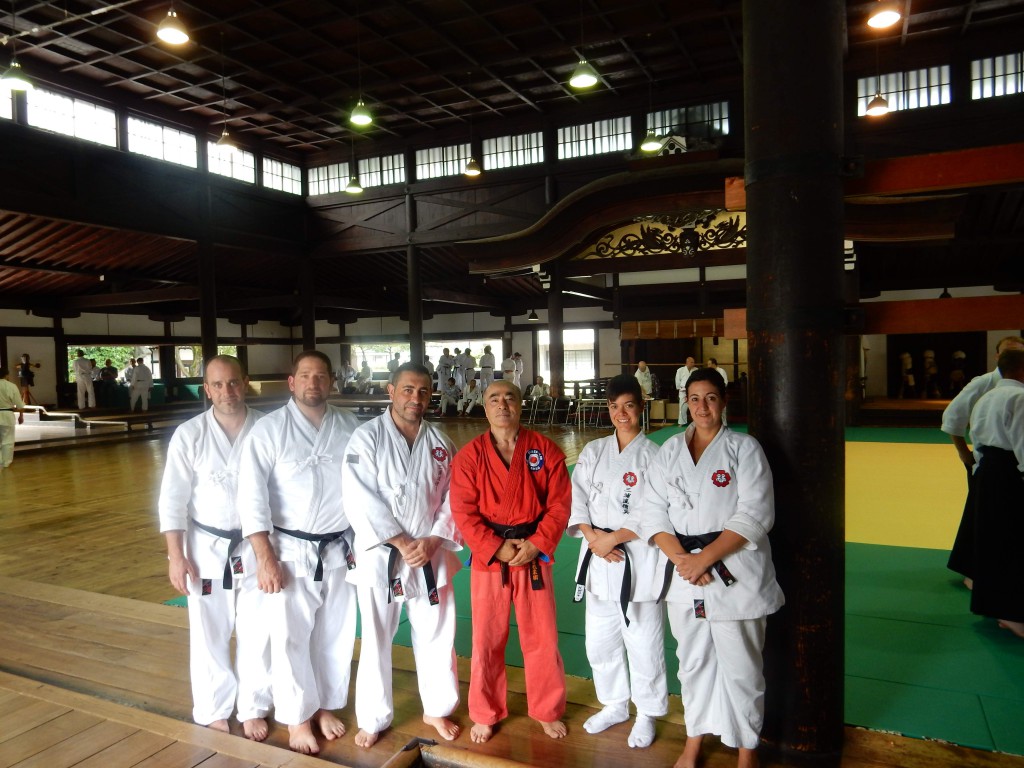 Please see Kobudo Enbutaikai
The first time Aikisambo seminar and workshop was conducted in Vrsac, Serbia from 13 through 17 July 2015.
MSS Adrijana and Petar Bozic have arranged all the schedule for me. The first day seminar started with my Aikisambo demonstration. After the demo, I gave everybody hands on experience for my Aikisambo techniques. I taught the ten basic techniques during the seminar. I got the impression that everybody enjoyed learning the basic Aikisambo techniques.
I will come back again next summer to teach more advance techniques.  It looks like I am starting another Aikisambo branch dojo in Vrsac, Serbia.  I like to thank both Adrijana and Peter for being my Uke during the seminar. I also like to thank Gorana san for  being my  interpretor during the seminar. Without their kind support, the success of my seminar was impossible.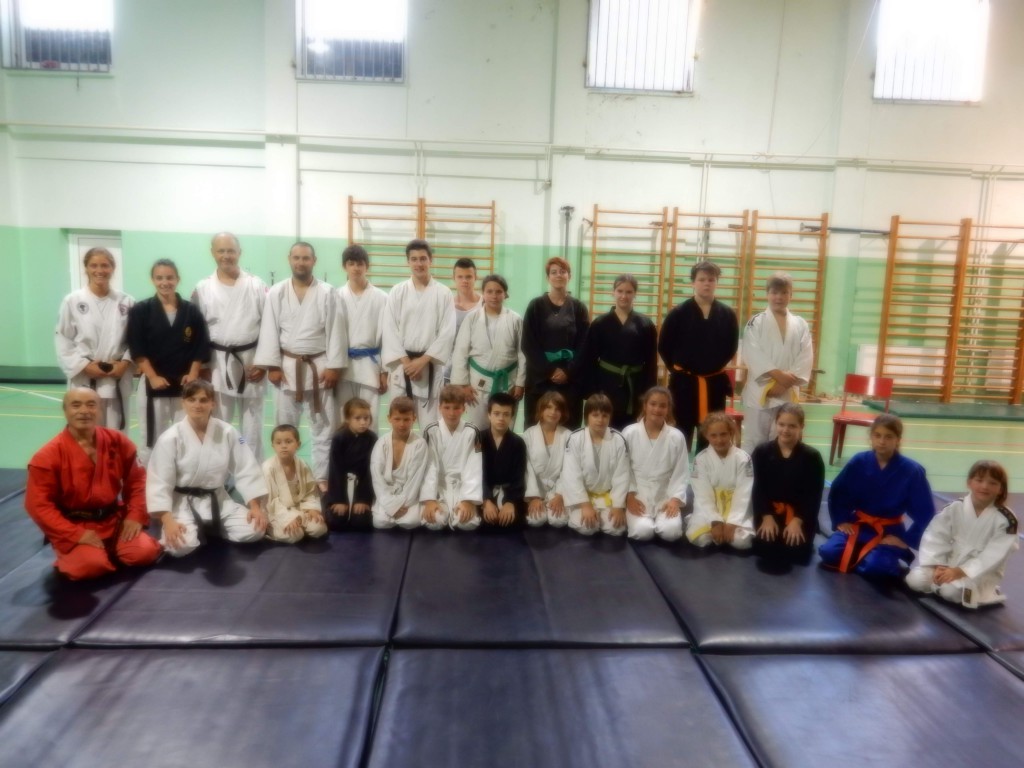 Please see Serbia Visit
July 2015
I will be visiting Serbia between 7 July to 23 July for teaching and training.  Expect more news in due course.
June 2015 Yokosuka Base Enbutaikai
June 7 Sunday we had a welcome to Japan dinner party at CPO club on base in Yokosuka for 6 guests from California, USA. 50 people came to enjoy the dinner and meeting and talking with the guests from USA. After the dinner we had a short walking tour of the base. At 3pm we started our joint Enbu with the guests from Tokyo, Yokohama and USA. It was a good opportunity for everyone to see the different Aikido techniques.We all enjoyed the excellent demo conducted by the Guests from USA.
Please see Yokusuka Enbutaikai
May 2015 – Joint Aikido Enbu Taikai
On 17 May 2015 a joint Aikido Enbutaikai hosted by Ando Shihan of Yoshinkan Aikido and Nakajima Shihan of Aikikai Aikido was held at Urayasu, Chiba neat Tokyo Disneyland.It was a 25th anniversary Enbutaikai and 800 people participated in it. Urayasu city mayor made a special opening speech.
This joint Enbutaikai is held every year in May for the promotion of friendship between Yoshinkana and Aikikai. I enjoyed my reunion with Ando Shihan and Nakajima Shihan. Chino dojocho from the Yoshinkan Honbu dojo in Tokyo, Takeno Shihan from Yamanashi dojo conducted their fantastic aikido technique demo. During the reception party after the Enbutaikai, I met many wonderful Budo friends and enjoyed the good friendship.
Please see Chiba Aikido Enbutaikai
Feb 2015 – Cape Town Aikisambo training
In February I visited Cape Town again to explore the beautiful City and its surrounds. I also had some time to train at various dojo including that of my Dokyusei – Hoosain Narker Sensei, the Kaicho of Ashihara Karate Kokusai.
I was seen off by Billy Balie Sensei, a shihan of Kenwakai Goju Ryu Karate and Derick Berold who has been training with me with a view to someday teach Aikisambo.
Nov 2014 – Cape Town Aikisambo training
I made a side trip to Cape Town after Johannesburg.
I enjoyed my reunion with Hoosain Narker Ashihara Karate Kaicho. By his invitation, I had a chance and pleasure to introduce my Aikisambo to his students. For many Karate students, it was the first time to experience Aikisambo techniques. It was a short casual training, but I was happy many Karate students enjoyed their hands on experience on Aikisambo techniques.
I also met Francis Balie Shihan, Kenwaikai Goju Ryu Shihan who trained with. I hope to go back again and introduce more interesting Aikisambo techniques.

see more pics at http://www.aikisambo.org/photo-gallery/training-in-cape-town/
Oct 2014 – Aikisambo seminar in Johannesburg.
During 31 Oct, 1 Nov and 2 Nov 2014, the first time Aikisambo seminar and work shop was conducted in Johannesburg by Kenji Nakazawa and hosted by Terence Teraine and Suzette. It was well received and many participants enjoyed the hands on experience on the unique Aikisambo techniques.
The following techniques were taught during the seminar.
1. Aikisambo Kotegaeshi
2. Aikisambo Udegarami Osae
3. Aikisambo Udegarami Aomuke 0sae
4. Aikisambo Iriminage
5. Aikisambo Obitorigaeshi
6. Aikisambo Yokossuteminage
7. Aikisambo Kubikari Jujigatame
8. Aikisambo Harakari Jujigatame
9. Aikisambo Ryoashi Kanibasami
10. Aikisambo Victor Nage


At the end of the seminar, Terence and Suzetter were certified as Aikisambo brown belt.
see more pics at http://www.aikisambo.org/photo-gallery/training-in-johannesburg/
Sept 2014 – Guest from Serbia
In September 2014, two guests from Serbia came to visit Yokosuka, Japan to experience Aikisambo training, Japanese culture and met with the Yokosuka city Mayor to discuss a future cultural exchange program.
The first main event took place at Butokuden, Budokan in Kyoto. We participated in the traditional Enbutaikai and conducted a joint demonstration.  It was a good showcase to introduce our techniques to the people in Kyoto. At the reception party after the Enbutaikai, I met and talked with a few  international guests from USA, Canada , UK and Australia.  They all gave me some nice comments about my Aikisambo.
I also enjoyed a short walking tour of Kyoto with my two guests from Serbia. After Kyoto, they came to visit my dojo on base in Yokosuka.  we did a joint training and a welcome dinner party with all my Budo friends from Tokyo and Yokohama.  On the last day they visited Yokosuka City Mayor's Office and exchanged  greetings. They gave a Serbian gift to the mayor. I hope this is the beginning of good friendship between Japan and Serbia. I plan to go visit Serbia in July 2015 and conduct my Aikisambo Seminar and Workshop.  My goal is to establish a good Aikisambo foundation in Serbia.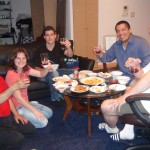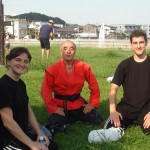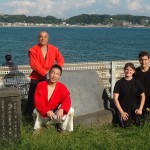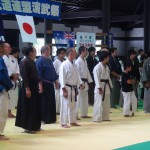 see more pics at http://www.aikisambo.org/photo-gallery/visitors-from-serbia-2014/
Traditional Enbutaikai at Butokuden, Budokan in Kyoto
This year once again, Aikisambo was displayed at the Enbutaikai at the Butokuden. 
My Dynamic Aikisambo Overseas Tour in Sacramento, California, U.S.A
On 24 June 2009, I arrived at San Francisco International airport at 9am. Steven Miranda Sensei and his students came to pick me up from Sacramento and took me to Pier 39 for Louisianna style seafood lunch. After 13 years of long interval, I finally got a chance to come visit the USA.
The main purpose of my visit was to attend the Aikido seminar with Parker Shihan to celebrate the tenth anniversary of Seikeikan dojo in Sacramento and to teach my Aikisambo class. I enjoyed my reunion with Parker Sensei, Miranda Sensei and his students who came to Japan four years ago.
The seminar by Parker Sensei was very beneficial and I enjoyed the training with all attendees. After the seminar, I had a chance to enjoy a local tour and outdoor events arranged by Miranda Sensei such as a winery tour, a tour of gold mine, a walking tour to see the world's biggest trees, a tour of old Sacramento, Gekkeikan Sake brewery tour an outdoor BBQ by the American river, and a real western Rodeo. Although my stay in Sacramento was very short from 24 June till 4 July, I enjoy the good old history, cultural heritage and the beautiful nature around the city.
My Aikisambo class was conducted at a local Karate dojo on 1 July and at Seikeikan Aikido dojo on 2 July. Many students came to experience my unique Aikisambo techniques. I hope they enjoyed learning my Aikisambo techniques. It was my first time to teach an Aikisambo class in USA.
I am very grateful to Miranda Sensei and Eric Klein Sensei who made a wonderful arrangement for me. I have received some positive comments about my Aikisambo techniques from people who saw my techniques on Facebook. I look forward to coming back next summer. Thank you for the good time and unforgettable memories from Sacramento.
Dynamic Aikisambo overseas seminar was conducted at Kiyokan Dojo in Kiev,Ukraine in 2004 for the first time with help of Andrey Berezhnoi Vladimirovich.
The second overseas seminar of my Aikisambo was conducted in Lvov city,Ukraine in December 2006 with help of Alex Kozlovsky.Many people came to enjoy my Aikisambo techniques. Next I went to Saint Petersburg, Russia and I conducted my Aikisambo seminar with help of Rustam Karimov Gennadevich. in Jan 2008
Dynamic Aikisambo International Friendship With Kiev, Ukraine
In March 2002, I was invited to Kiev, Ukraine by Andriy Berezhnyy, a chief instructor of Kiyokan Dojo. It was my first trip to Ukraine and was a memorable one for me.
I have arrived in Kiev from Narita via Moscow at 11.30pm. I remember I was very exhausted after a long trip from Japan. I was so happy to see Andriy san with his students and his Japanese speaking female translator waiting at the airport to welcome my arrival.
It was close to 1 am when I was invited to a small welcome dinner party .I was the first invited instructor from Japan to teach the Yoshinkan Aikido techniques.Andriy san was only Shodan at that time, but he organized the seminar well and more than 50 people came attending my seminar.During the three days seminar I taught three two hour's training sessions a day.
At the end of seminar, i have received one TV interview by the local TV station and one interview at the local Radio station.
Since then, I have visited his dojo in Kiev four times and Andriy san came to Japan seven times to receive the training and Shinsa at Honbu dojo in Tokyo and Ryu dojo in Chiba.Now he is holding Yondan of Yoshinkan Aikido. After the seminar he always showed me around the beautiful Kiev city.
Kiev is one of the most beautiful cities in Europe. Founded 1500 years ago,Kiev is the bustling capital of newly independent Ukraine. This city with a population of nearly 3 million people is distinguished for its rich architecture and cultural life. There are many beautiful buildings and interesting places to go such as,Kiev Percherrka Lavsa, National Opera House,
St.Sophia Catheedral ,Mariyinsky Palace, Andriyivsky Uzviz(The most ancient and steep street in Kiev),Independence Square, Khreschatyk Street (The main street of Kiev).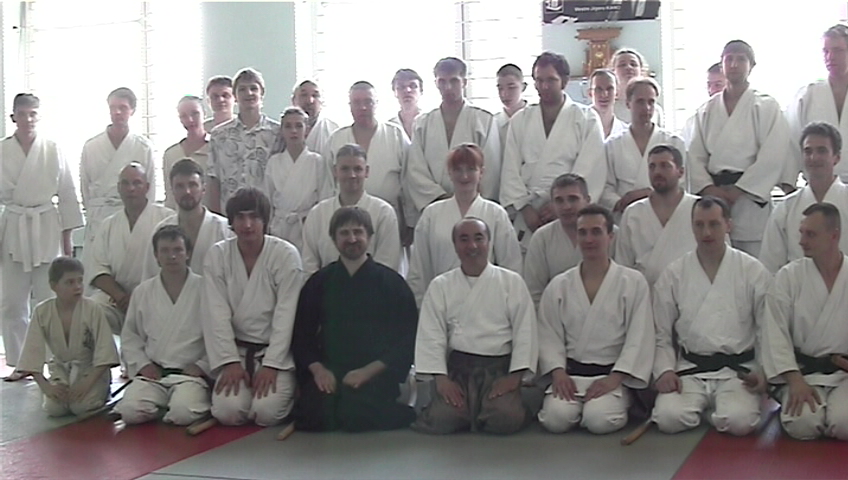 David Ayers Sensei is a Kancho for Misogikan Dojo in Moscow,Russia.I have met David Sensei in May 1999 during an international Yoshinkan Aikido seminar in Kamakura with Terada Hanshi.In June 2001 he invited Terada Hanshi and a group of people from Japan including myself to Moscow.We have received a kind hospitality from him,his family and his students.
David Sensei came to Russia from UK back in 1995 and started teaching the Yoshinkan Aikido. Many people have received the instruction from him.He is a power of Yoshinkan Aikido in Russia.His wife,Oksana is from Ukraine and is a good cook. I enjoy her homemade meals everytime I visited Moscow.
In May 2002, I made a trip to Kiso,Nagano with David Sensei, his wife,Oksana and Rustam,another instructor from Saint Petersburg. They enjoyed the trip very much.We stayed at an old Minshuku in the quiet village of Kakizore Canyon in Kiso,Nagano. They enjoyed the traditional Japanese dishes,Sake and hot spring. They are wishing to come back to Japan again.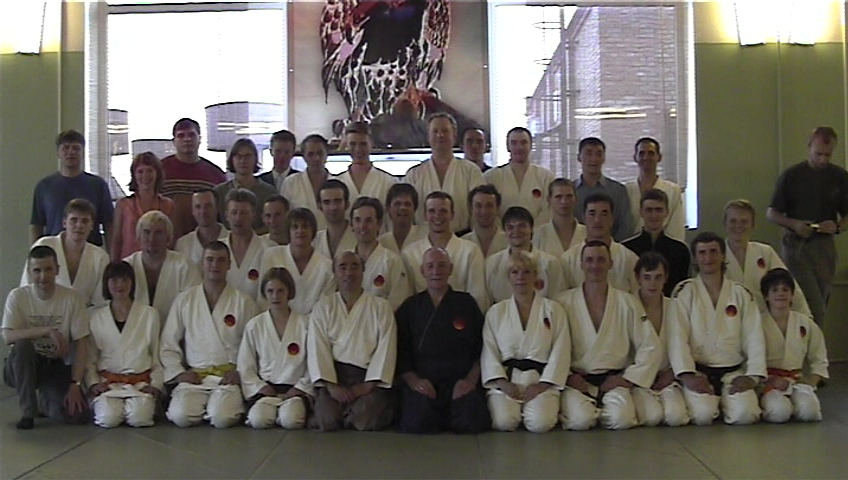 My Reunion with Amos L Parker Shihan
It was my great pleasure and honor to have met Parker Shihan at the Seikeikan dojo of Sacramento, California, USA after a long 13 year interval. It was 1984 when I first met Parker Shihan and started learning the Yoshinkai Aikido under his instruction at the US Naval base dojo in Yokosuka. I continued my training with him until he left Japan and returned home  in 1995.
Parker Shihan holds the 8th dan and is the highest ranking Yoshinkai Aikido instructor in the USA and the highest ranking non-Japanese instructor in the world. He has spent 35 years in Japan with his Aikido Grandmaster Terada Hanshi, 10th dan. I was fortunate to travel to the US, Canada, Australia and Brazil with Terada Hanshi and Parker Shihan for an Aikido world tour. After he returned back to US from Japan, he began to travel all over the US and Canada to teach Aikido. As a result, Yoshinkai Aikido began to spread all over US and Canada. Thanks to his kind and consistent instruction, the technical level of Yoshinkai Aikido in US and Canada, has been greatly improved. His dedication and contribution are highly honored and appreciated by many people. Inoue Kyoichi Hanshi, former Yoshinkai Aikido Kancho, commented on Parker Shihan's profound knowledge of Yoshinkai Aikido and thanked him for all his contributions and dedication.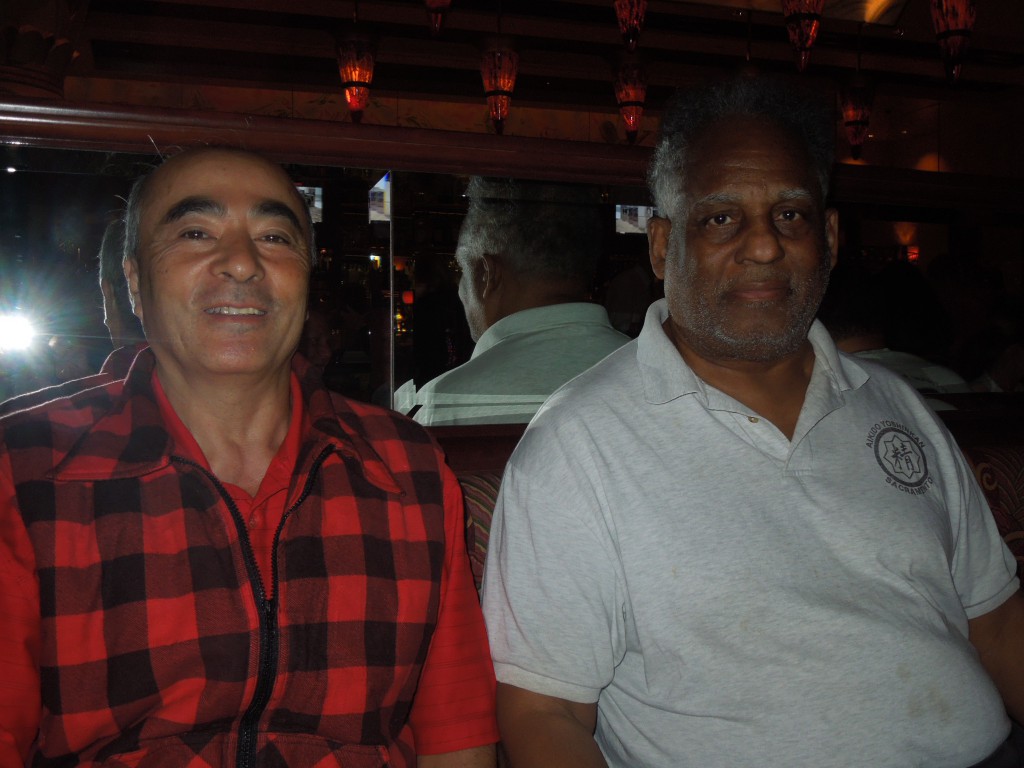 Parker Shihan by far is one of the foremost experts in Yoshinkai Aikido in the world and we, his students and friends around the world, are forever grateful for this time, patience and commitment to excellence.